Amps
1958 Fender tweed Twin amp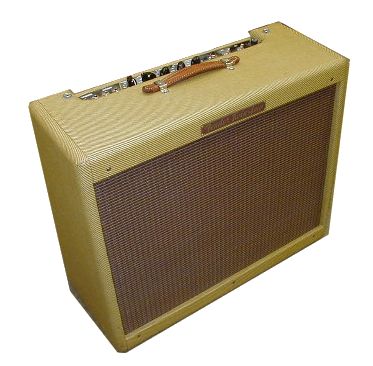 "Eric had what he considered to be the Holy Grail of amps (his favorite 1958 Fender tweed Twin amp). But since he only had one he was afraid of damaging it on tour" says Del Breckenfeld Fender's director of artists relations. "Our mission was to clone that amp, which was a quite difficult task. We first analysed Eric's vintage amp to the specs then we searched for old parts. After all that, it still didn't sound right. At that point, John Page suggested old pine wood. We found some that came from an old church's floor and that made the difference. We nailed it and we built a total of three. We built them and then subjected them to the acid test… Eric's ear. He loved them and declared them to be the exact replicas and gave one to BB King as a gift. " This amplifier is equipped with speakers specially modified for the distortion. It's impossible to find one of those amps for the moment because John Suhr left Fender. They are the only amplifiers that Eric wants to use. It tested all the other models (Bassman, Concert amp) but they do not function for him.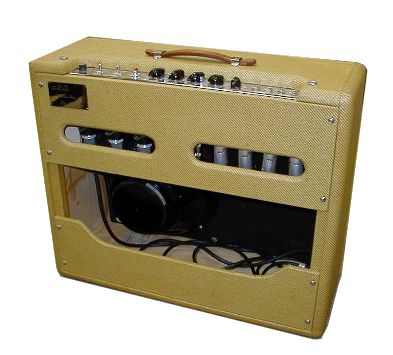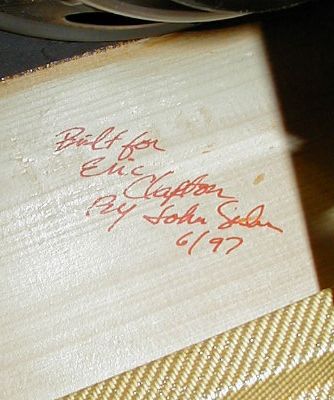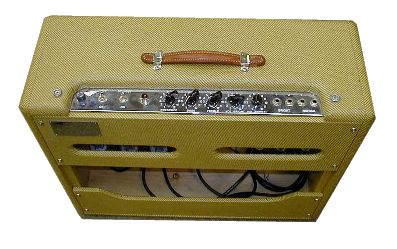 Cornell Custom 80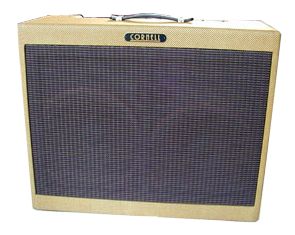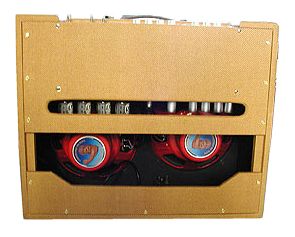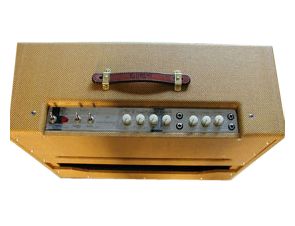 Dennis Cornell, in his own words : ""Out of the blue, I received a phone call from Eric Clapton's guitar tec, 'I have a letter for you. Eric has a problem with his sound and has been told that you can sort it out for him'. I was told that he had been using two old twins, but in Eric's words, 'they just don't make it anymore'. Eric was using Fender Vibro-king amplifiers; he found them to be lacking in middle response. The control settings on the amplifier were bass and treble off, middle up full, but he still found them to have too much treble and bass response. I made some adjustments to the EQ, and cut some of the treble response, however, the lack of middle was due to the Jensen speakers which can't help sounding clean and crisp. The modifications helped, but I was pleased when he decided to have a custom amp built. Eric Clapton's musical aims evolve, and part of his talent is that he is constantly developing his style, and knows exactly the result he wants to hear. It was my task to try to convert those requirements into the perfect amp for him. Considering the subtleties of his requirements, it was better to start from scratch. All the work was carried out through liasing with his guitar tec, Lee Dixon; he knows Eric's sound like no-one else. Lee was a pleasure to work with and we spent many hours working together, not just on the tone, but also on the features and aesthetics. We ended up with something that looks like Eric's old twins, but sounds bluer, with lots of middle. We made a decision to have two channels: channel one consists of Volume, Bass and Treble. The EQ is similar to Eric's 1956 Twin amplifier, with lots of warm middle response, irrespective how you adjust the tone controls. It's a simple 'plug in and go' tone. Channel two consists of Volume, Bass, Middle and Treble. These controls are a lot more sophisticated than the average 3-way EQ. Each control has its own valve stage, giving it a wide range of control, yet is still able to achieve a good tone at any position. The output stage has four 6L6 output valves running in class A/B giving a comfortable 80 watts. There is also a power switch to reduce the output to 20 watts. The speakers are "Tone Tubby" hemp cones. We tested at least ten different types of speaker, but finally decided upon these because they were the closest to Eric's requirements.The cabinet is made from birch ply, and covered in Fender Tweed that we've treated to look old. This was the amp used at the Queen's Jubilee gig, with his guitar connected to channel two. I understand that he has also used it for recording an album with Ringo, and at the Ferrari gig at Brands Hatch. However, since then Eric has decided that he would like the amp to be as simple as possible, and therefore we have now deleted channel two."
Fender Custom Vibroking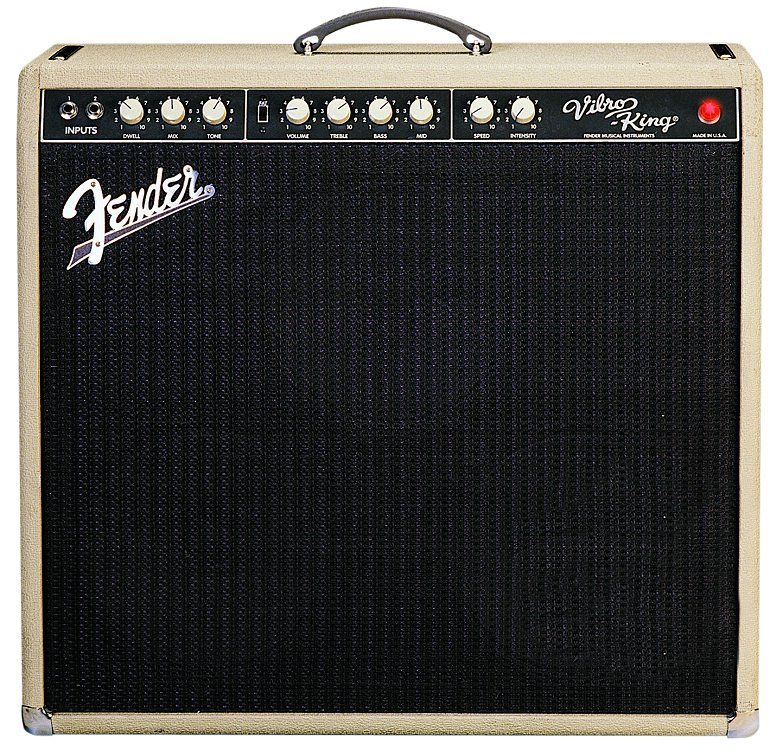 Eric started to use those amps during the US "Reptile" tour The Vibrokings with 3 10" blue alnico magnets speakers are built by the Fender custom shop and have been tewaked by them quite a bit more than the standard custom shop items for retail because Eric wanted two amps with a little more umph still.
Marshall JCM800 Lead Serie 1959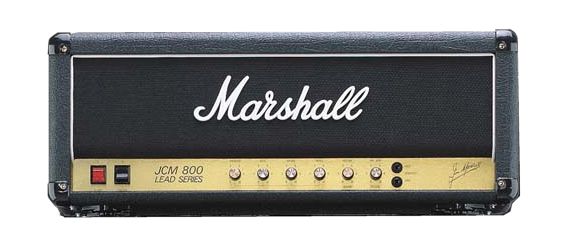 Eric uses the Marshall JCM 800 Lead Serie 1959 head with a Leslie for the "Reptile" tour as a second amp without master volume to get a sound different from his Twin. He also uses the two amps at the same time with a special device.
Soldano SLO100 Super Lead Overdrive Head / Marshall
E.C. used the Soldano / Marshall duest in the beginning of the 90's (24 nights). The hand-built SLO features a signal path of pure tube magic, including two independent pre-amp channels that deliver a full array of tones through four 12AX7s. Includes a Clean/Crunch switch. An additional bright switch draws out sparkling highs. The Overdrive channel beats the entire high gain pack with clear articulation, solid punch, and singing sustain. Channel jumps are foot switchable and noise-free. It also features a three-band EQ and four 5881 tubes in the power section to make it a lethal weapon.
Marshall 1962 Bluesbreaker Combo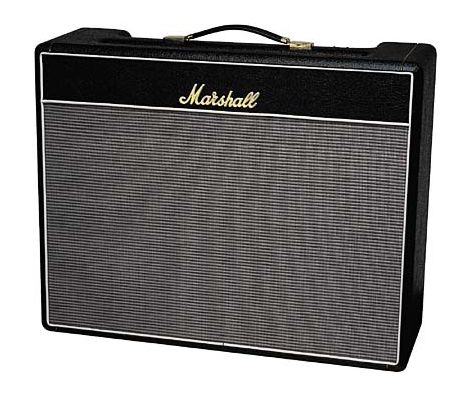 This amp was used during his stint with Mayall's Bluesbreakers. Basically, it's a JTM45 in combo form with a footswitchable tremolo. With 45W output and 2 x 12 speakers, it produces a gutsy bass and vibrant top, coupled with an overall natural warmth.
Other amps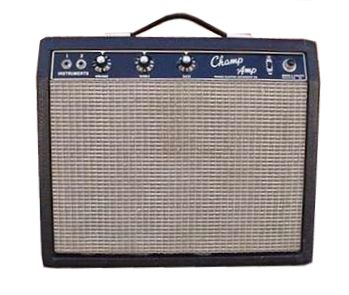 For the sessions of Pilgrim, he also used lots of small amps like Pignose or Fender Champ and some pre-amps plugged on line into the console (Summit, Marshall JMP1).